When:
April 2, 2019 – April 5, 2019
all-day
2019-04-02T00:00:00-05:00
2019-04-06T00:00:00-05:00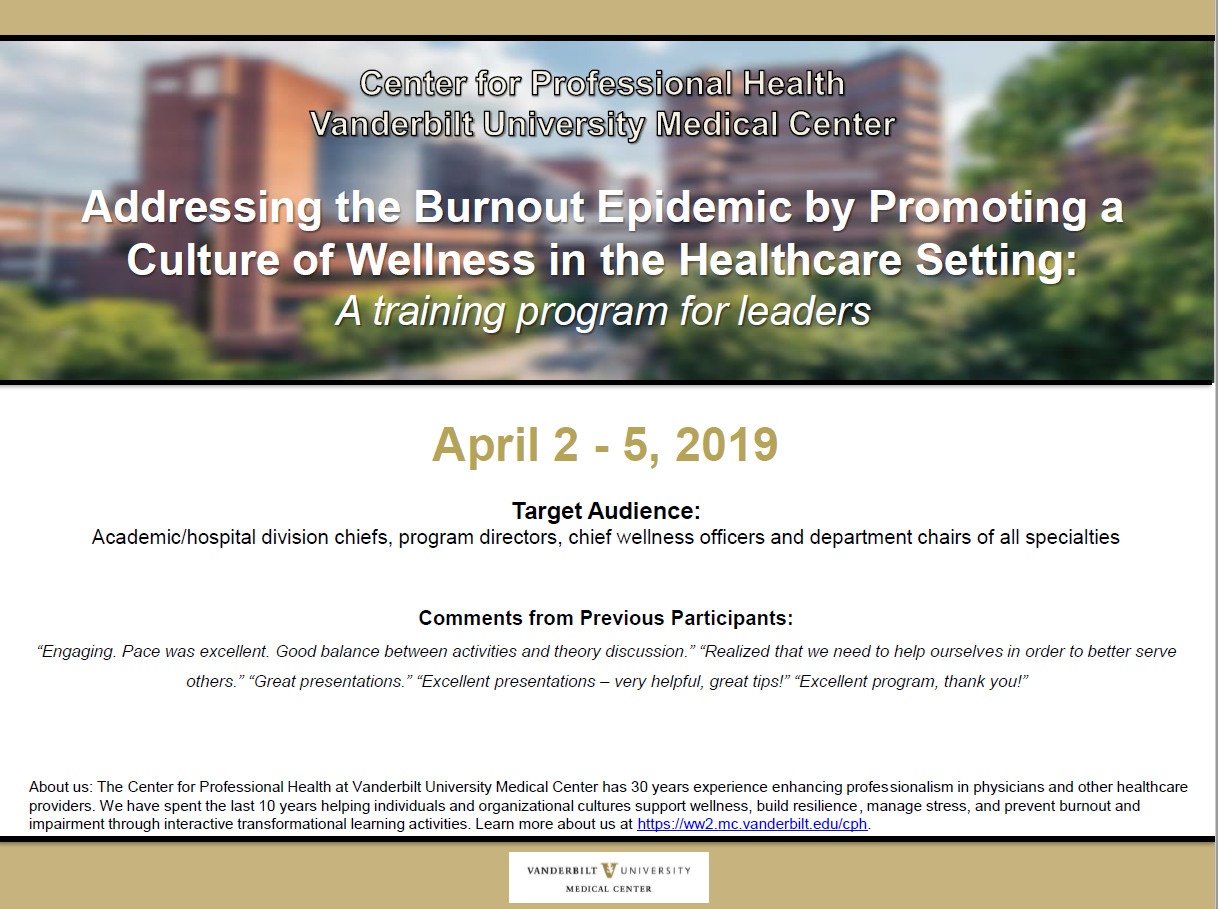 Location and Parking: Vanderbilt University Medical Center – Center for Professional Health
Course Logistics:  All sessions are held at Center for Professional Health at Vanderbilt University Medical Center on the 11th Floor, Room 1107 located at 1313 21st Avenue South, Corner of 21st Avenue South and Dixie Place. Click here for directions.
Course Goals: Train leaders within departments and divisions on physician wellness and resilience topics such as wellness, identifying and dealing with stress and stress management, burnout, and impairment. Identify resilience building activities for physicians within departments and designing and implementing organizational programs to address and reduce risk of burnout and impairment.
Course Objectives: After participating in this CME activity, leaders will:
Identify individual risk factors, sources and consequences of stress and burnout at work and home.

Engage in reflection to connect meaning and value as a physician.

Apply knowledge of managing energy to cases and current work-life situation.

Practice emotional regulation, conflict management, assertiveness communication and mindfulness-based stress reduction.

Identify areas of personal change and design a personal wellness plan by writing B-A-SMART-ER™ goals to implement and complete within the next six months.

Analyze the current workplace environment and outline solutions that promote well-being and professionalism using a nominal group technique.

Create a brief summary of next steps for developing and implementing changes within his/her area for improving a culture of wellness.
Price: The cost is $2500 (includes continental breakfast, lunches, CME fees, and Tuesday evening reception). We offer a $200 discount to those who register by March 11, 2019. You may pay by credit card or by check. Please make checks payable to VUMC. Credit card payments must be made online. We cannot accept credit cards on site. There is a $25 surcharge when paying with a credit card.
Course enrollment is limited. Please complete the enrollment form online or fax (615-936-0676) to the Center for Professional Health. Please contact us to confirm availability. Please enter Leadership as CME course name.