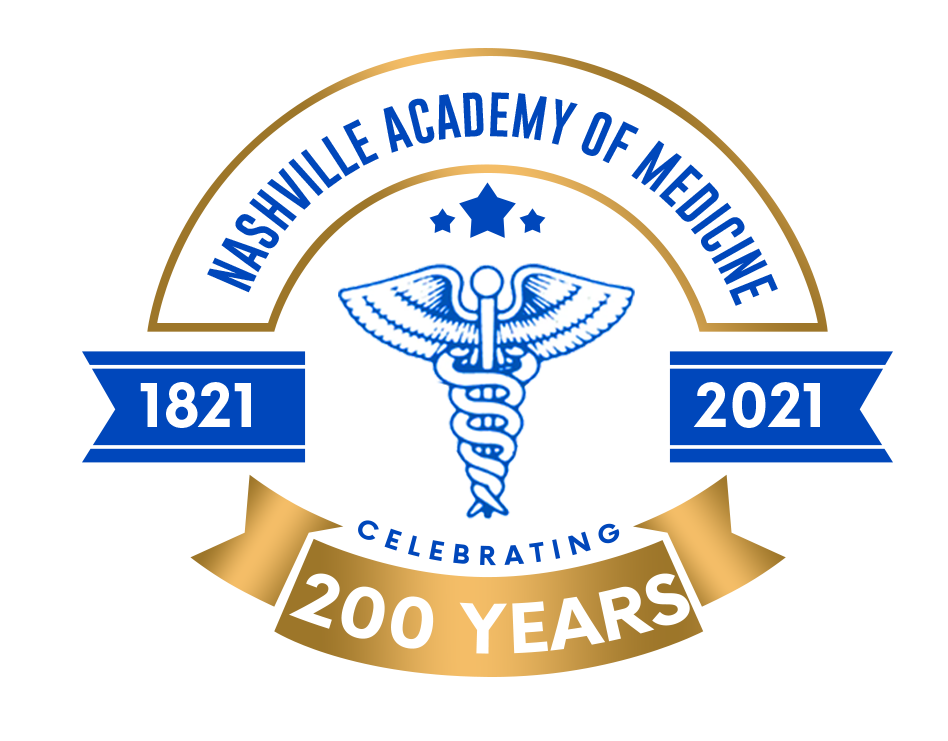 Nashville Academy of Medicine is thrilled to be celebrating our bicentennial anniversary in 2021. The first medical association in Tennessee, was founded in Nashville on March 5, 1821, by seven physicians in the log courthouse on the Public Square.  The organization took the name "The Nashville Medical Society."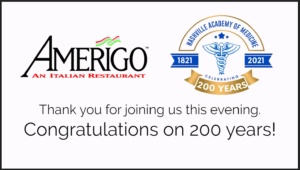 January 2021: In the midst of the COVID-19 pandemic, we were able to celebrate virtually with the installation of our president, Nicole Schlechter, MD, PhD. We hosted a three-course dinner for our virtual president's reception where each member had a cook-at-home experience with Chef Steven Rubilio and Amerigo, and we unveiled our new bicentennial logo shown above.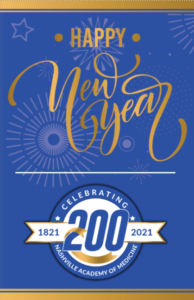 February 2021: All MFN Donors and NAM members were greeted with a special card wishing them a Happy New Year!  The Bicentennial Happy New Year card can be seen here online. Thank you to the Medical Foundation of Nashville and its donors for celebrating this momentous occasion!
March 2021: On March 5, 2021, the official 200th Anniversary of NAM, we gathered at the steps of the Tennessee state capitol to accept a Senate Joint Resolution honoring 200 years of our members serving Tennessee.  Click here to see more photos and details on our facebook page. Thank you to Senator Jeff Yarbro, Sen. Heidi Campbell, Sen. Brenda Gilmore, Sen. Rusty Crowe, and Representative John Ray Clemmons for sponsoring SJR0182 to honor and commend the Nashville Academy of Medicine upon the occasion of our bicentennial anniversary. This ceremony was attended by a small group of NAM leaders amidst the COVID-19 pandemic, but we are looking forward to celebrating with more of our members later this year.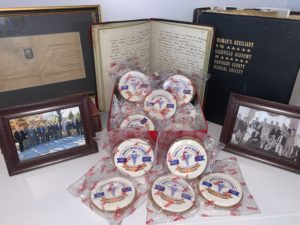 What is a birthday/anniversary without some sweets?  NAM commissioned cookies with our new bicentennial logo and delivered these to our physician board leaders and the physician groups who support us with membership for all of their physicians.  Thank you all for your leadership and support!  NAM would not be where it is today without the amazing physician members and leaders who give their time and energy to our organization.
May 2021: On Saturday, May 22, 2021, the TMA House of Delegates, with a near record number of attendees present from across the state gathered in person for the first time as a larger body since the COVID-19 pandemic began. They honored the bicentennial anniversary of the Nashville Academy of Medicine with a resolution of commendation to close their actions of the day. TMA Board Chair, Timothy Wilson, MD, of Knoxville, read the full resolution before the house. The full resolution can be read here, and will be framed for our gala in October. The following physician leadership from TMA joined the full NAM delegation for a photo: Elise Denneny, MD (TMA President 2019-2020), M. Kevin Smith, MD (TMA President 2020-2021), Timothy Wilson, MD (TMA Board Chair), Edward Capparelli, MD (TMA Speaker of the House), and John McCarley, MD (TMA Board Treasurer).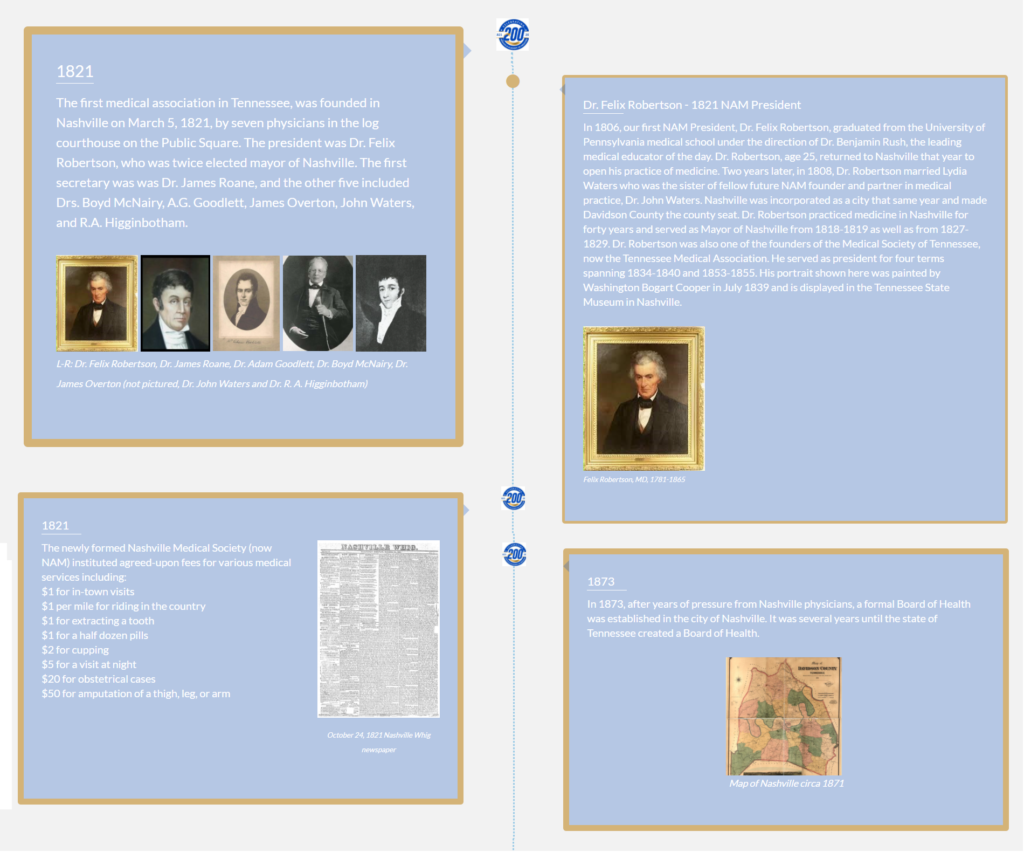 July 2021: In celebration of our bicentennial anniversary, NAM documented 200 years of the organization's history and the impact its members have made in Middle Tennessee. Physicians have a rich history in Middle Tennessee, and NAM is honored to display this in a virtual way for all to access and enjoy! New technologies have given us the ability to display our history and share from books, letters, maps, newspapers, and more. Visit www.nashvillemedicine.org/timeline to view our historical timeline including nearly 260 timeline points of NAM's history and the impact that physicians have made in Nashville over 200 years.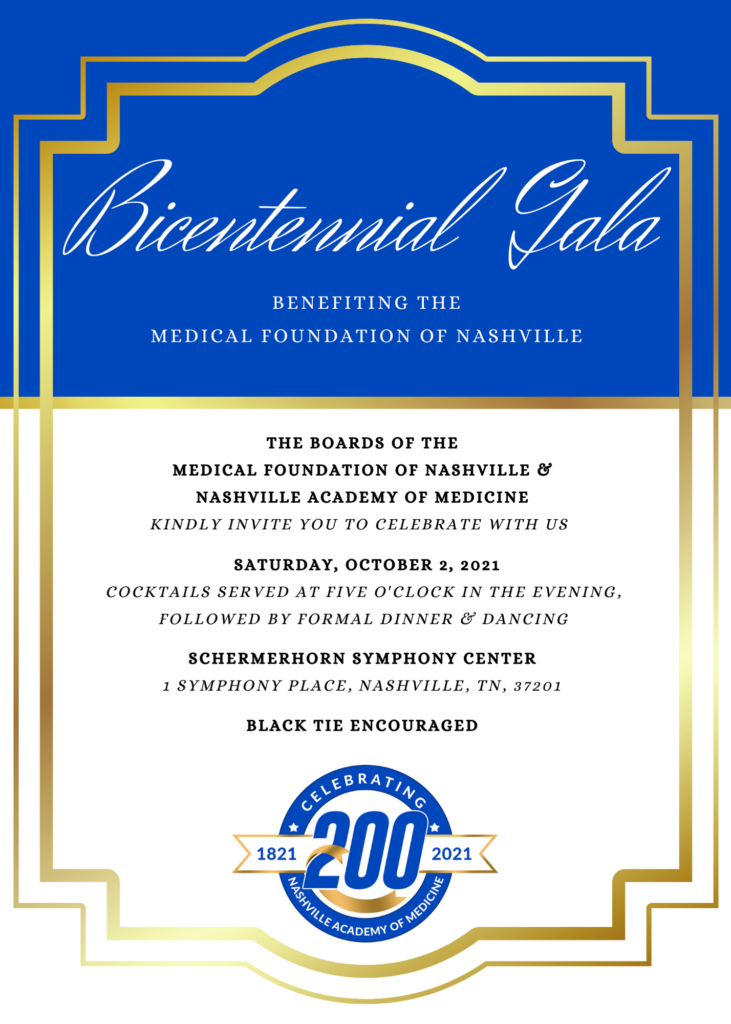 October 2021: On Saturday, October 2, 2021, a black-tie encouraged bicentennial gala event benefiting the Medical Foundation of Nashville will be held at the elegant Schermerhorn Symphony Center as part of the celebration for the 200th Anniversary of the Nashville Academy of Medicine. This event will follow all safety protocols and size restrictions in place at the time of the event.
Click here to learn more.