Project Access Nashville Specialty Care, a program under the leadership of the Nashville Academy of Medicine and the Medical Foundation of Nashville, provides a coordinated system of care to low-income, uninsured residents of Middle Tennessee through our partnership with the Metro Nashville Health Department and the Safety Net Consortium of Middle Tennessee.
Through these partnerships, Project Access Nashville Specialty Care has established a referral process that links these patients to a network of community-based medical clinics, physician specialists, collaborating hospitals, and ancillary partners.
The response and results of this program have been striking. Since its April 2005 inception, we are proud to report over $50 million in care has been donated to thousands of uninsured Nashville area patients by more than 1,500 physicians and their affiliated hospitals and laboratories.
We are exceedingly grateful for the generous participation of our volunteer physicians and the following hospitals, which have donated the necessary inpatient and outpatient care to our Project Access Nashville Specialty Care enrollees, including surgeries, imaging and laboratory testing: HCA Tristar Centennial Medical Center, HCA Tristar Skyline Medical Center, HCA Tristar Southern Hills Medical Center, Ascension Saint Thomas Midtown Hospital, Ascension Saint Thomas West Hospital, and HCA Tristar Summit Medical Center.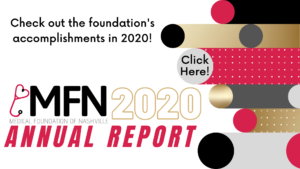 The following clinics currently utilize our program for the specialty care needs of their patients. This comprehensive referral system ensures that each patient has access to the necessary primary and specialty care that they need.
Baptist UT Medical Clinic
Comprehensive Care at Vanderbilt
Faith Family Medical Clinic
First Response Clinic
Matthew Walker Comprehensive Health Center
Metro General at Meharry
The Clinic at Mercury Courts
Metro Downtown Clinic
Neighborhood Health - Cayce Clinic, Dickerson, Downtown (Sam Levy), Inglewood, Madison, Mainstreet, Northside, Southside, Unity, Waverly, Wallace Road
ProHealth
Siloam Family Health Center
Saint Thomas Medical Partners- The Holy Family Health Center (South)
Saint Thomas Medical Partners - Family Health Center West
Saint Thomas at Preston Taylor
Vine Hill/Neighborhood Health
We are also incredibly grateful to the State of Tennessee Department of Health, The Healing Trust, United Way of Metropolitan Nashville, and the Vanderbilt Community Health Improvement Team who provide grant funding to support our work.
Please see the links below for more information: