Information for Physician Volunteers
Project Access Nashville Specialty Care relies on the generous support of physicians who volunteer their time to treat the uninsured patients in our program. We are so grateful to them and their staffs for the excellent care they provide. In the past 15 years we have had over 1,500 physicians offer volunteer services during more than 32,000 patient encounters. The total value of donated care by physicians and hospitals since the inception of the program has exceeded $50 million.

Please contact our office with any questions you may have including:
PANSC patient eligibility verification
Scheduling a patient as a PANSC patient
Referring PANSC patients for additional care, testing, imaging, surgery, etc.
Submitting Health Insurance Claim Forms
Sharing a patient success story
Becoming a PANSC Volunteer Physician
If you are a specialist interested in seeing patients through our program, please contact Anastacia Volz at 615-712-6237 or at avolz@nashvillemedicine.org.
Click here to read a letter written by 2020-2021 MFN Board Chair and PANSC volunteer, Dr. Ralph Atkinson, about the importance and benefits of participating in Project Access Nashville Specialty Care.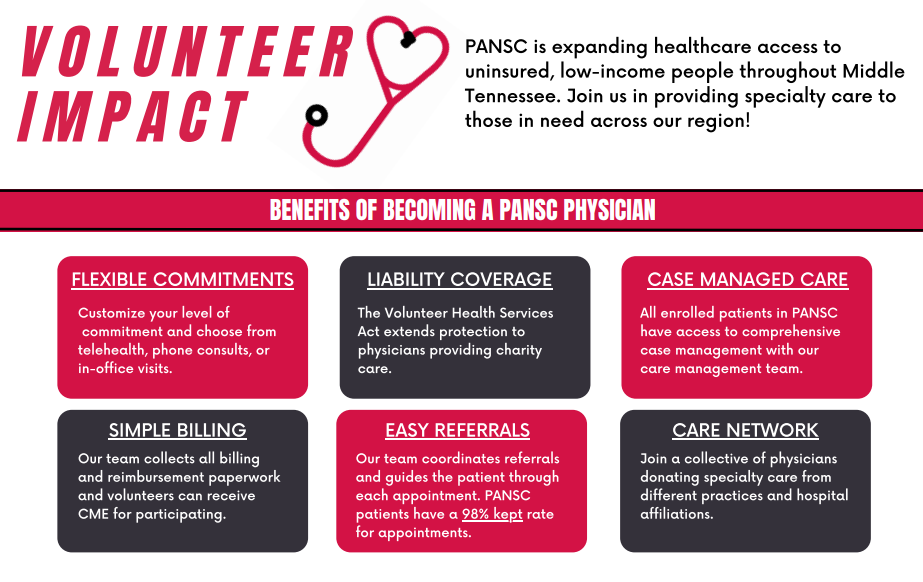 If you are a patient or clinic, please see the links below for more information: